Welcome to the Yellowhead
Here in Canada we tend to view the sport of hockey as culture. But at a time such as this however, I would venture to say that it is much more intimate than that; it is a community. The tragic accident involving the Humboldt Broncos this past weekend has shaken that community to its core. Though the season has come to an end for many of us, the memories of watching our children, grandchildren, friends and family enjoy the great game of hockey at all levels are still very fresh in our minds. As players, coaches, parents, family, fans and spectators we all ride the emotional roller coaster that each season brings and we understand all too well what it means to be a part of a team. Our hearts are broken as we think of those affected by this tragedy.
The Yellowhead Centre, YHC staff, our Board Members, and all who call our facility home wish to extend our deepest sympathies to all members of the Humboldt Broncos and their families. Our thoughts and prayers are with you!
#PrayForHumboldt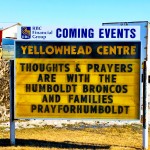 Like us on Facebook for daily updates of what's up at the Yellowhead and Follow us on Twitter @yellowhead1974
Come check out our New Boards, New Ceiling, New Lights and New Clock! And our always beautiful hall!
Excited to start another Great Season!
For availability for the Yellowhead Centre please check out our Calendar and then click on Hall and Arena Headings – For Costs associated with renting the Yellowhead Click on Hall or Arena depending on what you are interested in!